The St. Thomas Aquinas Society has an impressive history of bringing the finest speakers for conferences, Masses, retreat days, Divine Mercy weekends, and evenings of concert and testimony.

We invite you to read about our history and learn about our mission. Most importantly, we invite you to join the enthusiasm in sharing and experiencing our Catholic Faith.
On this retreat, Fr. Greg Bramlage will teach us about the role of Mary our Blessed Mother, the ministry of Angels and the God of Miracles! He will explain the nature of curses and the power of prayer. Through Eucharistic Adoration and amazing worship, he will lead us deeper into intimacy with Jesus, the Holy Spirit and our Heavenly Father.
Come and experience the fire of God's love for you.
Be prepared for a life-changing experience.
Please bring your Bible and Rosary!
The retreats will take place at the Colorado Springs Marriott.
To register go online at www.ledbythespiritministries.com and print off a registration form or to register online, and to pay with a credit card, for an additional fee, go to http://www.showmyevent.com?jumptoevent=2867 for the women's retreat and http://www.showmyevent.com?jumptoevent=2866 for the men's retreat. If you have any questions please call Monica at 720/936-3073.
APOSTOLIC PENITENTIARY
THE GIFT OF THE INDULGENCE

The celebration of the Jubilee Year is not only an extraordinary occasion for benefiting from the great gift of indulgences which the Lord gives us through the Church, but it is also a fitting opportunity to recall the catechesis on indulgences to the attention of the faithful. The Apostolic Penitentiary is therefore publishing this sacred notice for the benefit of all who will be making Jubilee visits.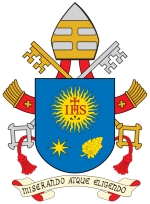 To My Venerable Brother
Archbishop Rino Fisichella
President of the Pontifical Council
for the Promotion of the New Evangelization
With the approach of the Extraordinary Jubilee of Mercy I would like to focus on several points which I believe require attention to enable the celebration of the Holy Year to be for all believers a true moment of encounter with the mercy of God. It is indeed my wish that the Jubilee be a living experience of the closeness of the Father, whose tenderness is almost tangible, so that the faith of every believer may be strengthened and thus testimony to it be ever more effective.